This is my account of The Derwent Watershed walk, which is a circular walk round the high points of the bowl where all streams and rivers flow into the Derwent Reservoir and River Derwent, also Howden and Ladybower reservoirs.
Its one of my favourite walks as it has fabulous views of some of The Dark Peak Districts well known landmarks but also passes through some lesser known and wilder areas of the Peaks. Wild is not normally a word associated with The Peak District but when you get out into the depths of Bleaklow which is miles from any road you really do soak up that isolated feeling.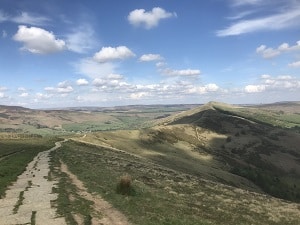 I originally got my inspiration for this walk from Ken Wilson's Big Walks book which is an excellent book for remote and challenging walks across the UK. This is a fabulous walking challenge, some people do it in a single day but bearing in mind that's 40 miles across some fairly rough terrain and around 2000 metres of ascent I prefer to spread it over 2 days which is still a significant walking challenge.
We set off from Bamford at The Yorkshire Bridge , which is the official start as it crosses the River Derwent. It was 2.30pm so a little late to be starting but we had planned an overnight stop deep in Bleaklow with an estimated arrival time of 8/9pm at our secret bivvy spot, so we weren't too worried about the late start as this put us roughly half way round the circuit.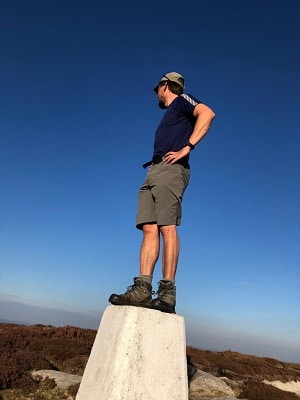 It was a wonderful warm day and the forecast was for this to continue so a light pack with just the bare essentials was carried, which included whiskey and a beer of course 😊
The first section upto Dennis Knoll and Stanage High Neb area is the longest and only road section and once we got onto Stanage we only had 4 road crossings over the next 40 miles. High Neb and Stanage soon came and went and within no time we were making our way upto Derwent Edge from Moscar Farm.
Derwent Edge has to be my favourite of all the Peak District Edges as it seems to have more than all the others have, The views from The Wheel Stones rocks, (which is one of many interesting rocky features ) are fabulous, taking in The Great Ridge which includes MamTor, Back Tor and Loose Hill with the finish line at Win Hill, also views go back across Stanage Edge, looking West ad North you get The Vale of Edale, Kinder Scout and the distance moors of Bleaklow which seemed miles away, you also get views North through to East towards West Yorkshire , Sheffield and Doncaster where the next hills must be The Yorkshire Dales, and if this wasn't enough you get the only large water views in the Peak's towards the Ladybower, Derwent and Howden Reservoirs, not forgetting the famous arched white bridge at Ladybower.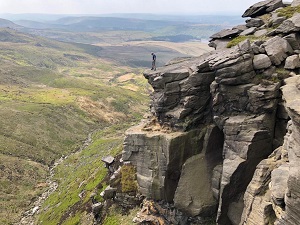 The walk down Derwent Edge maintains interest all the way from either the views or the various well know rock formations which include The Salt Cellar, The Wheel Stones, Dovestone Tor, Cakes of Bread and finally Back Tor which the turning point north east away from the edge and towards the true watershed line along Cartledge Stones Edge. Now the remote feeling kicks in as you enter the rough moors of Bleaklow and Howden Moor.
This is one of the toughest areas of the walk so its important to find a path, there is one but it constantly disappears under the heather and peat hags of the moor. Eventually we came out at Howden Edge which always reminds me of one of our strangest call outs with Mountain Rescue to a stranded helicopter that had been in a James Bond film!!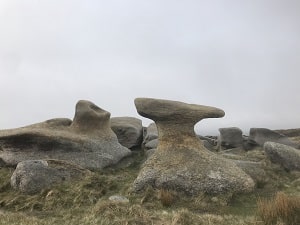 Anyway, we moved on as it was getting late and bagged Margery Hill which has a trig point and is the highest point in South Yorkshire. Here the views go as far as Emly Moor TV Mast and what looks like Leeds or Wakefield.
Here we decided to take a detour down Cut Gate towards our secret destination bivvy spot. We arrived at our stopover at 8.30pm which was perfect timing, a brew, food and whiskey with a beer were well in order followed by putting the world to rights and an early night.
Day 2 – I woke at 6am after a good night's sleep and prepared a breakfast of porridge, oat cakes and jam which set me up for the long day ahead of nearly 40km. First it was over to Grinah Stones via Round Hill, this meant missing out the most northern section of the walk in Harden Moss and Featherbed Moss which would of meant an extra 14Km would be added onto the walk across moorland which we decided to give a miss for the more direct route heading North West towards Bleaklow Stones. We set off at 8am and not a soul was around. Bleaklow for some people is just that "bleak" but like many places without obvious tangible beauty it has its own desolate beauty which can only be appreciated through being there as photos do it no justice. Along our way to Bleaklow Head we saw pixie cup lichen, furry caterpillars, carpets of bilberry and plenty of Mountain Hares and also what we think was a Peregrine Falcon!!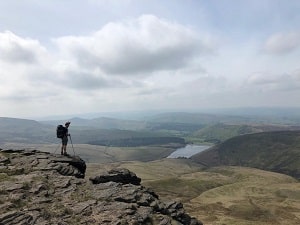 As we got to Bleaklow Head which is joint highest point of the walk with Kinder Low at 633metres and also The Peak Districts second highest mountain, we had a rest and took in the views towards Crowden and Manchester. Bleaklow Head is a Hewitt Hill which is a mountain or hill defined as "Hills in England, Wales and Ireland over Two Thousand Feet, its also where the famous Pennine Way is joined and you follow this south for many kilometres until Jacobs Ladder at the south side of the Kinder Plateau. It's a welcome relief to join a national long-distance trail and hang up the navigation boots for a while as the reminder of the walk is now on well maintained paths. Crossing the A57 at the very top of The Snake Pass feels like suburbia at this point as its over 15 hours since the last road (if you stop over). Its now onto Mill Hill and Kinder where there are a few airplane crash sites if you have the time and energy to visit them…………………..we didn't, so it was onto The Kinder Downfall for a lunch stop.
The Kinder Downfall is one of if not the most impressive sights on the walk, this huge amphitheatre always impresses, whether its in its water iced winter coat, summer bone dried rock or autumn waterfall going back upwards with the wind. We also saw a the remains of a huge rockfall on the east side of the waterfall which reminded me of our insignificant size and the power and forever changing face of mountains through natures force.
We cracked on in the building heat of the afternoon sun towards our joint highest spot and trig point of Kinder Low, now off the Plateau and down to the top of Jacobs Ladder where we left The Pennine Way and walked across the paved path of Brown Knoll which looks the opposite way from the end of The Vale of Edale to yesterdays view from Derwent Edge.
Now onto Rushop Edge and Lords Seat and down to the 3rd road crossing at Mam Nic. Then its upto MamTor and another lunch break on this wonderful summit with new views over the lush green Hope Valley. We had the finish line in our sites with Win Hill in close view, so we powered along The Great Ridge, up and over Back Tor and Loose Hill and now our final ascent of the walk up the steep ascent of Win Hill.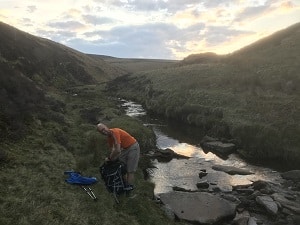 It was now 21 degrees and with 38 miles behind us we struggled and sweated our way upto the final rocky summit of this grand hill. Once we reached the summit, we touched the trig point at the same time and dropped to our feet to take the last few mouthfuls of water and shared the last remaining food a pack of mini cheddars.
We now had a short but steep descent into Bamford towards The Yorkshire Bridge for our final crossing of the watershed at The River Derwent where every single stream, clough, river and tributary now flowed under our feet. So, there we are, 40 miles and 2000 metres ascent of the longest, toughest, roughest walking challenge in the Peak District and what a fabulous challenge it is.
The Derwent Watershed is for experienced walkers only with a good level of fitness and excellent navigation skills, if you need any information on this feel free to Contact Us
If you would like myself and Peak-Outdoor to guide you on this challenge and take the burden off you, then Contact Us to book your place.