Outdoor Bouldering
Do you want the thrill, movement and feel of rock climbing but without the ropes and heights of big walls or crags ? or you may want to get some confidence on rock before you progress to rock climbing, or you my just want to give the fabulous growing sport of bouldering a go, either way a half day or full day on the Peak Districts "boulders" is a great time and rewarding experience whatever your requirement.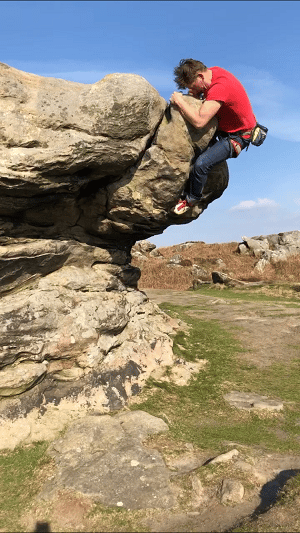 The Peak District has some of the best bouldering venues in the UK and there are thousands of "problems" to go at, at locations through out the area. Bouldering is a great way to practice and hone your climbing ability and doesn't involve the heights, ropes and the same safety procedures that rock climbing requires, the feeling of free movement on rock without the rock climbing paraphernalia is a unique feeling and is a great introduction to the sport.
People of all ages and abilities can boulder, our courses are bespoke and designed around your ability and time available.
We provide half day courses at £50.00 per person or full days at £80.00 per person, we provide all the equipment which is a safety matt called a bouldering matt, climbing shoes (available to hire) and a chalk bag, that's it, that's all you need to get started in this fabulous activity.