Walking Challenges
There's nothing like a good old walking challenge to test the mind, stamina and legs, and we provide the better known ones but also some lesser known walking challenges. From the classic Yorkshire & National 3 Peaks to the Welsh 3000's, we not only provide the guiding for the day with a qualified Mountain Leader but will also provide training and nutrition advice so you are in tip top shape for your big day. Please find below a sample of some of the challenges we provide and support and if there's a particular one not listed then let us know and we can discuss a bespoke challenge to suit your needs.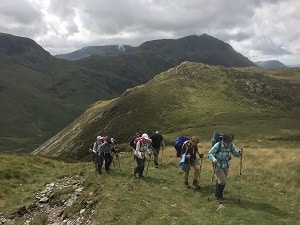 Yorkshire Three Peaks – A fabulous and popular UK Mountain challenge, not to be underestimated as this is 25 miles long and over 3200ft climbing and the official challenge has to be completed in under 12 hours to get your certificate from the famous Horton In Ribblesdale Post Office. Completing this challenge is great achievement and our qualified Mountain Leaders will help you round this circular trip of the Yorkshire Dales highest mountains.
The Welsh 3000's – Fancy climbing all the welsh mountains over 3000 ft in under 24 hours ? This is a challenging event not just for the walk its self but also the logistics of getting from A to B and back again. We take the hassle of route finding, navigation and logistics out of this big Welsh Mountain Challenge by providing guiding across these huge mountains of Snowdonia. Alternatively, we can take it a bit easier and spread the challenge across 2 or 3 days with some high overnight wild camps.
The Nine Edges – a well-known Peak District Challenge, we start in the spectacular Lady Bower reservoir area and cross nine of the famous "Peak Gritstone Edges", starting at Derwent Edge and completing our 31-mile hike at Birchen edge with a well-deserved drink at The Robin Hood Pub in Baslow. This event can be split into 2 days with a stopover halfway.
The Six Dales Challenge – deep into the White Peak we change our normal environment of high mountains and moorland into low valleys with the picturesque White Peak dales. Each dale has its own character and story and most are nature reserves with beautiful wildlife, plants, flowers and other flora and fauna, but don't let the benign nature of these dales mislead you into thinking this is an easy day out!! Far from it, this 26 mile , 1000 metre ascent challenge is only for the fit walker who is ready for a full day out. We provide transport to get you back to your start point, we can also provide some bespoke pit stops with fish & chips or the local deli food. Alternatively, you can split this day into two days with an overnight stopover to make the challenge a bit easier.
The Lakes 3000's – a full on 24 hour walking challenge taking in all the Lake Districts mountains over 3000ft, this challenge is all within the Lake District National park with no motorised support between the mountains and climbing over 13,000ft and 35 miles across Skiddaw, Helvellyn, Scafell Pike and Scafell. You will need to be really fit with plenty of full days (8-12 hours minimum) walking fitness and experience.
Coast To Coast – devised by walking legend Alfred Wainwright and still surprisingly not a National Trail this fabulous long distance walk starts on the West coast at St – Bees and finishes between 12-18 days later at Robin Hoods Bay. Passing through 3 of Englands most beautiful National Parks and each with its own individual character. This is definitely a bucket list walking challenge and one you are sure not to forget.
The Derwent Watershed – this is one of our favorite walks in The Peak District . The watershed is basically the highest point where the rainwater falls into a huge bowl that includes the Ladybower, Derwent & Howden Reserviors and we walk round this. Taking in The Great Ridge of MamTor, Back Tor and Loose Hill and then onto Win Hill and then famous climbing crag of Stanage Edge, we then cross the A57 and ascend upto Derwent Edge, Howden Edge and Bleaklow. Then its only the second road crossing of the trip over the A57 at The Snake Pass to climb the northern edge of Kinder Scout and the spectacular Kinder Downfall and return back to our start point via Rushop edge and Lords Seat. This is a 40 mile challenge and only for the fit walker and is a very long day.
The Limestone Way – at 45 miles this is the longest of our Peak District challenges and as you would expect with a name like Limestone Way it runs mainly through the limestone areas of the white peak and apart from the distance is fairly easy walking terrain through beautiful rolling hills, dales and fields, but don't let England's green and pleasant pastures fool you into thinking this is a walk in the park , as this is a tough challenge to complete in 1 day. We start in Castleton and pass through Millers Dale, Flagg, Monsyash, Youlgrave, Parwich and Tissington before finishing in Rocester, if you fancy completing this walk over a longer period and more leisurely pace then visit our – Peak District Walks page.
Marsden To Edale – is acomplete contrasts to The Limestone Way. This walk covers most of the Dark Peak Districts northern high moors and is a great way to experience what some say is the best section of The Pennine Way. Covering 25 miles and 1600 metres of ascent this walk is mainly for fit individuals who are used to medium to long walks. We complete this walk in 1 day, starting from Marsden we ascend to Black Hill and over Crowden to cross only one of two roads all day, we then ascend up the grade 2 scramble of Wildboar Clough (this can be avoided for none scramblers) to reach Bleaklow and then across the last road of the day The Snake Pass A57. Then its on the home run to the Kinder Scout Plateau and the stunning Kinder Downfall before hopefully arriving in time for last orders at the starting point of The Pennine Way The Nags Head pub at Edale.
Challenge training – whether you have a 3 peaks charity day or a trip overseas we can provide the training and advice needed for your up and coming challenge walk. We take you out into the Peaks, Wales, Lakes or Scotland to prepare you and your team for your big day. From kit advice to efficient walking and trekking in the high mountains you can be sure to be taking a list of things to do or things you have learnt from our Challenge training day.
Creature Comforts – We can enhance your walking experience by providing that added bit of bespoke luxury, whether its traditional fish and chips delivered to your pit stop or a beer from the local microbrewery we can add that little bit of luxury to your day on the hill.
Due to the long day our rates for the walking challenges are £80.00 per person per day, our group sizes are no more than 10 people, if you require personal guiding our day rates start from £160.00 per day, all prices are subject to our terms and conditions