A long distance walk across the Dales and Valleys of The White Peak District.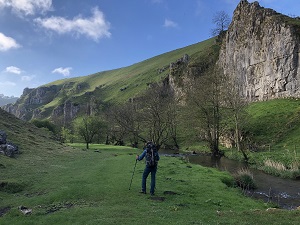 This blog is about my wonderful long distance walk taking in six of the most beautiful dales in The White Peak District.
I fancied a long distance walk and needed to get some training in for our planned long distance walks in Scotland in September and October and what better place than from my doorstep !
The Six Dales Challenge is a fairly well know hike across six stunning dales within the White Peak District, taking in Bradford Dale, Gratton Dale, Long Dale, Biggin Dale, Wolfscote Dale and Lathkill Dale. You can start pretty much anywhere as the walk is a circular loop of 26 miles so as long as you keep going you will return to your starting point. Fortunately for me, my starting point was my house which is only 20 minutes from Lathkill Dale which unsurprisingly is a regular walk for me and my chocolate Labrador Stan The Man.
So with 26 miles ahead an early start was required and although there are no hills or mountains to climb i still needed to be self sufficient with water and food supplies and return within the day. Starting out from my house was a real pleasure and i decided to take the clockwise direction starting at Youlgrave and the first Dale Bradford Dale. Just like Lathkil Dale, Bradford Dale is very picturesque but also has remnants of a industrial past which can be seen in the weirs and water channels for various man made activities such as Lime Kilns and lead mining.
At the top of Bradford Dale are some interesting stone carvings of past and present. Then its onto Gratton Dale which is near the lovely village of Elton which has the little known claim to fame of a visit by Everest legends Edmund Hillary & Tenzing Norgay !, but no stopping here as time was of the essence. Gratton Dale is probably the least inspiring of all the Dales visited so its nice to enter the open valley of Long Dale at the end of Gratton which has a more airy and agricultural feel to it.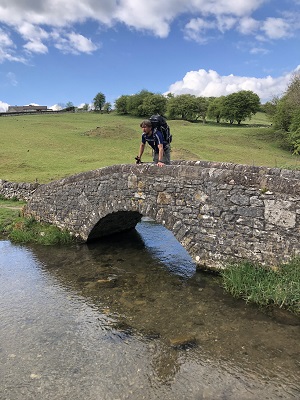 Next its a crossing of a few pastures and fields and the A515 Ashbourne to Buxton Road to then enter the village of Biggin. Biggin is another quaint Peak District village and guards the entrance to Biggin Dale which is where the heavy weight Dales begin. This is a deep and wide Dale with no water running through it and i was now out of water so relied on the River Dove for a resupply. Within Biggin Dale there are some caves and other areas to explore but pressing on was key if i was to return within the same day.
As i descended down into Wolfscote Dale the scenery became more spectacular, this is where both Biggin & Wolfscoet Dales meet at a natural intersection. The River Dove was bubbling away next to carpets of green grass growing Purple Orchids surrounded by high limestone crags and towers.
The path up Wolfscote is very flat and far better underfoot than the previous Dales visited so this man made course way was a welcome treat. At the end of the Dale is a wonderful bridge with a glorious cave overlooking the tranquil setting, this area also has climbing crags and a deep cave which is the for the experienced caver only but i couldn't resist a look in the first few metres and saw plenty of formations within this other world.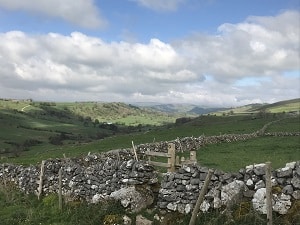 The walk into Hartington another gorgeous village was only a short distance and then it was up onto various fields and pastures with views over towards The Roaches, Chrome Hill and Parkhouse Hill. Now over towards The High Peak Trial and time for a brew on my ever reliable AlpKit BrewKit stove with freshly ground coffee :). I could now sense the finish line and home of Bakewell from the high point of the A515 as i walked down into Monyash which is my neighboring village and the gateway to the last and most beautiful Dale Lathkill Dale.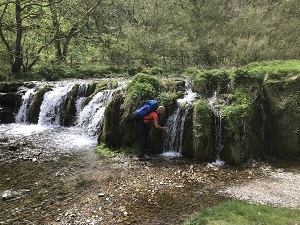 The jaws of Lathkill Dale are wide then immediately narrow to a short passage way then open up again into wide limestone mini canyons where you can see all around the formation of the Dale from high up where the river once flowed millions of years ago. The Limestone of The White Peak District was formed from sea creatures remains in shallow waters of warm tropical seas when this area was sat around the equator around 300 million years ago during the carboniferous period and its very easy to imagine this as you spot the various sea creature fossils within the Limestone crags and walls.
Lathkill Dale is my favorite because its my local area and i am obviously biased but also because it has all the qualities of the other 5 dales, it has crystal clear pools, water falls, an amazing abundance of wildlife, flora and fauna as well as high limestone crags and deep valleys, its no wonder this Dale is a nature reserve and has been written about by poets and naturist over the centuries.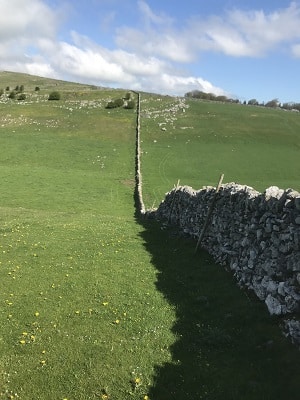 So the final leg was the one i visit the most along the river bank of countless weirs and crystal clear waters of the River Lathkill which strangely enough featured on Countryfile the very next day. here you can see the trout gliding effortlessly within the clear pools and a swans guarding their nest, what a fitting end to a fabulous day out. A long walk but well worth it and lots to see to take your mind off your tired legs.
If you want to experience this fabulous walk with me and Peak-Outdoor, just visit – Peak District Walks for the more leisurely 2 day walk or – Walking Challenges for the single day challenge walk.
If you need any more info on this walk, please get in touch at – Contact Us