The Kinder Scout Plateau Round
This is an account of my walk round the whole edge of The Kinder Plateau in The Dark Peak District, this is known as The Kinder Round or Kinder Plateau Round.
I've spent many hours probably days walking and scrambling on Kinder Scout, mainly ascending from the southern side from either Edale up Grindsbrook Clough or from Upper Booth and up Crowden Clough which has some excellent grade 2/3 scrambling high up. A lot of my time has been spent on the southern edges which faces The Vale of Edale and also climbing The Kinder Downfall in winter. But I had never walked the full length of the northern edges that faces the A57 and The Snake Pass and had never walked the whole way round the plateau's edges in one go, so with COVID 19 restrictions being slightly eased I decided to walk the complete Kinder Round last weekend with my climbing buddy Gazza.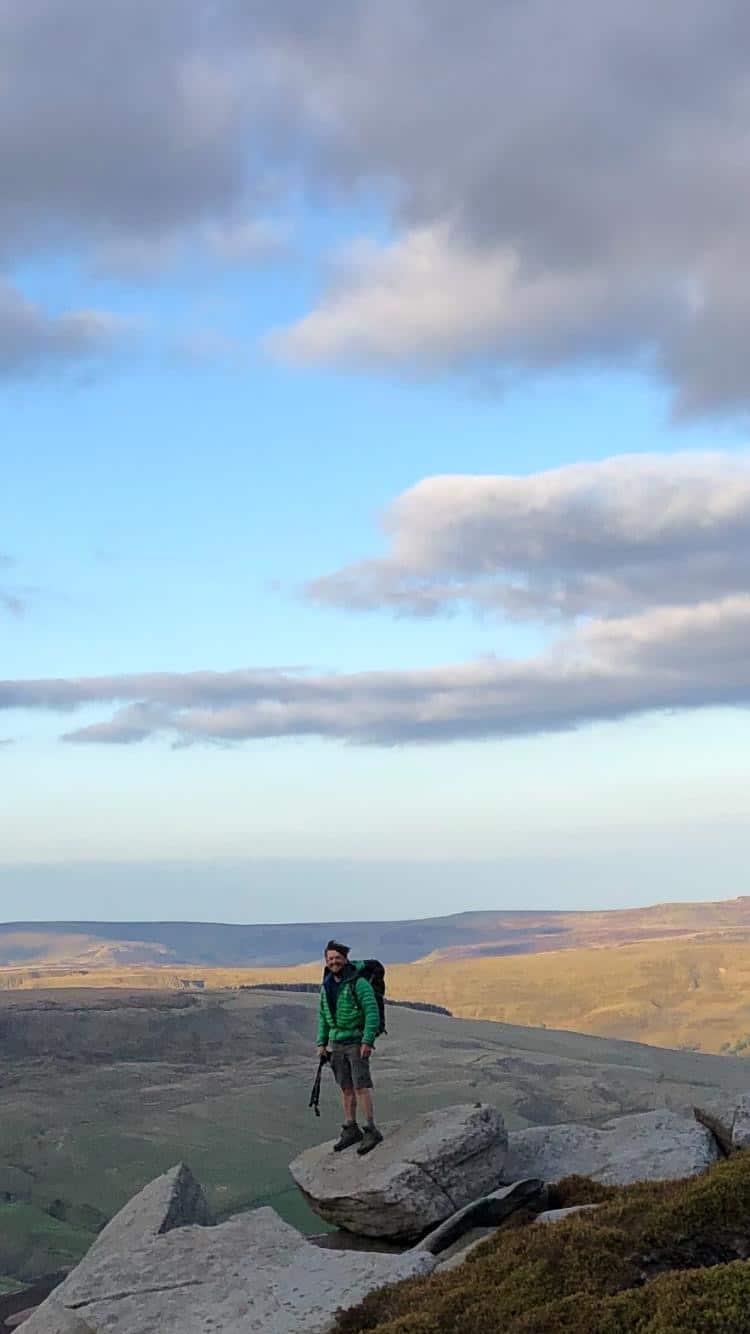 It was a warm day in the valley as we set off from Barber Booth car park towards Crowden Clough which was our chosen way up to the Kinder Plateau. Crowden Clough is an excellent way up to the plateau as it starts in a fairly quite area of The Vale of Edale and it's a lovely walk through farmland and meadows following the burbling stream / clough, then it enters the rolling valley of Crowden Clough followed by some technical ground as you have to rock hop up the higher areas of the clough which finishes with a high rocky wall of about 6 metres where you have to use your hands and scramble up this wall. A word of warning if you are not used to scrambling or climbing then there is no other way round to go higher so if you don't fancy the climb then retreat back down to where there is a steep path that turns left just before rocky areas and traverses  up under a rocky outcrop called Crowden Towers which will be high up on your left as you walk into the valley.
Once we topped out of Crowden Clough the great vista of The Great Ridge which includes MamTor, Back Tor, Loose Hill and Win Hill opens up, also you start to feel any wind that's around as with Kinder Scout being flat on the top you have no protection from the prevailing weather.
With the wind chill it was cold so we made our way past the fabulous Wool Packs rock formations which really trigger the imagination as to how these rocks were formed, were they artwork by long distant relatives, sculptures of alien gods or just the wind rattling through the gritstone walls to form beautiful boulders ? my romantic mind wants to believe the former but knowing full well the rocks were formed by a millennia of weather erosion.
From here you head almost directly west towards the huge catching feature that is the rocks of Kinder Low and where you join The Pennine Way that comes up from Edale and Jacobs Ladder, but not before passing Noes stool which is a great rock feature to clamber on top of and survey the western wall of The Vale of Edale where the Sheffield to Manchester trains run into the hill beneath Brown Knoll. One of my main reasons to clamber onto the seat of Noe's Stool is that fact that my Famous TV Person crush and walking man's crumpet Julia Bradbury once finished one of her Britain's Best Walks up here and sat on this very rock!!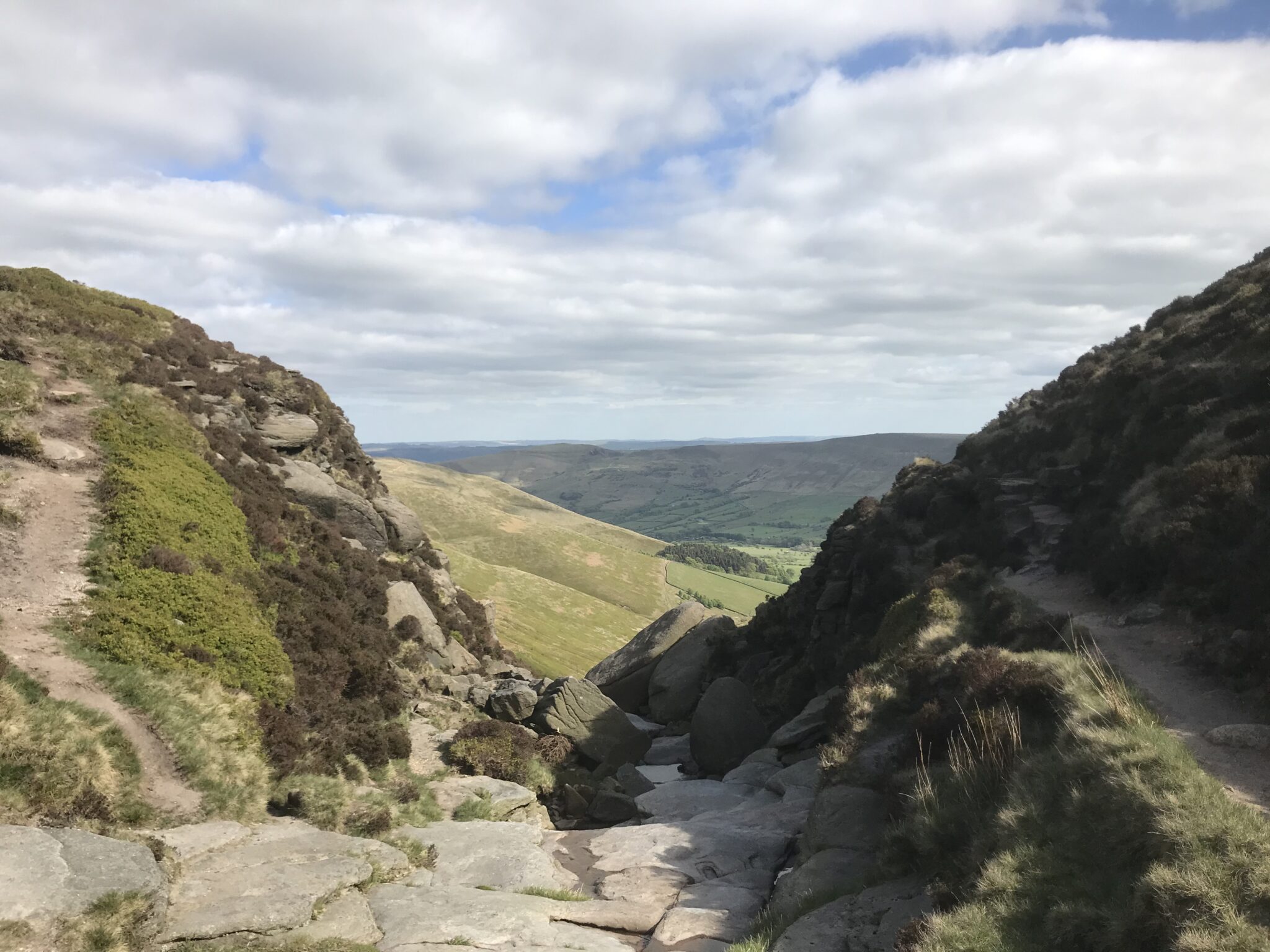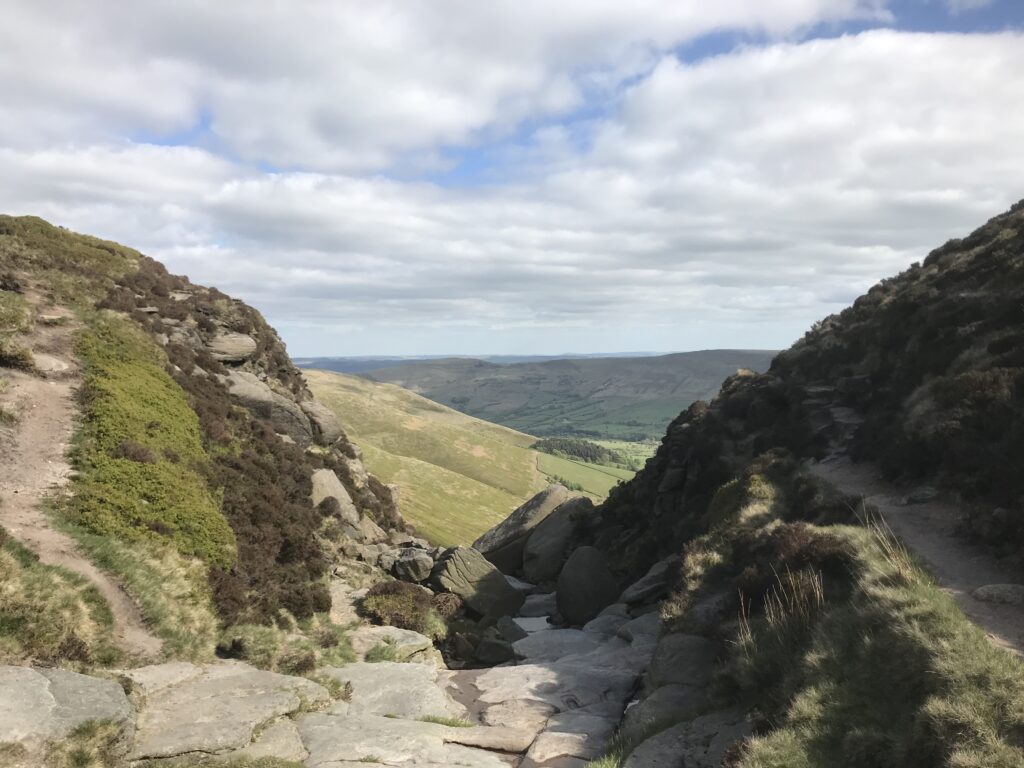 After dreams of Julia we headed in the biting north westerly wind towards the Trig Point on Kinder Low which at 633 metres is only 3 metres lower than the summit of Kinder Scout which is around 600 / 700 metres to the North East of this point and is not an obvious summit so make sure you have your navigation head on if you want to visit the true summit as Kinder Low is a good point to take a compass baring from in order to find the summit.
However, the summit of Kinder wasn't in our plans as we were sticking religiously to the Kinder Edges Round so carried on in the head wind to Kinder Downfall which is always a delight to look at. Now we carried on the path with views over towards Manchester and what looks like the distant Welsh Hills and possibly reflections of The Irish Sea at Birkenhead or Ellesmere Port.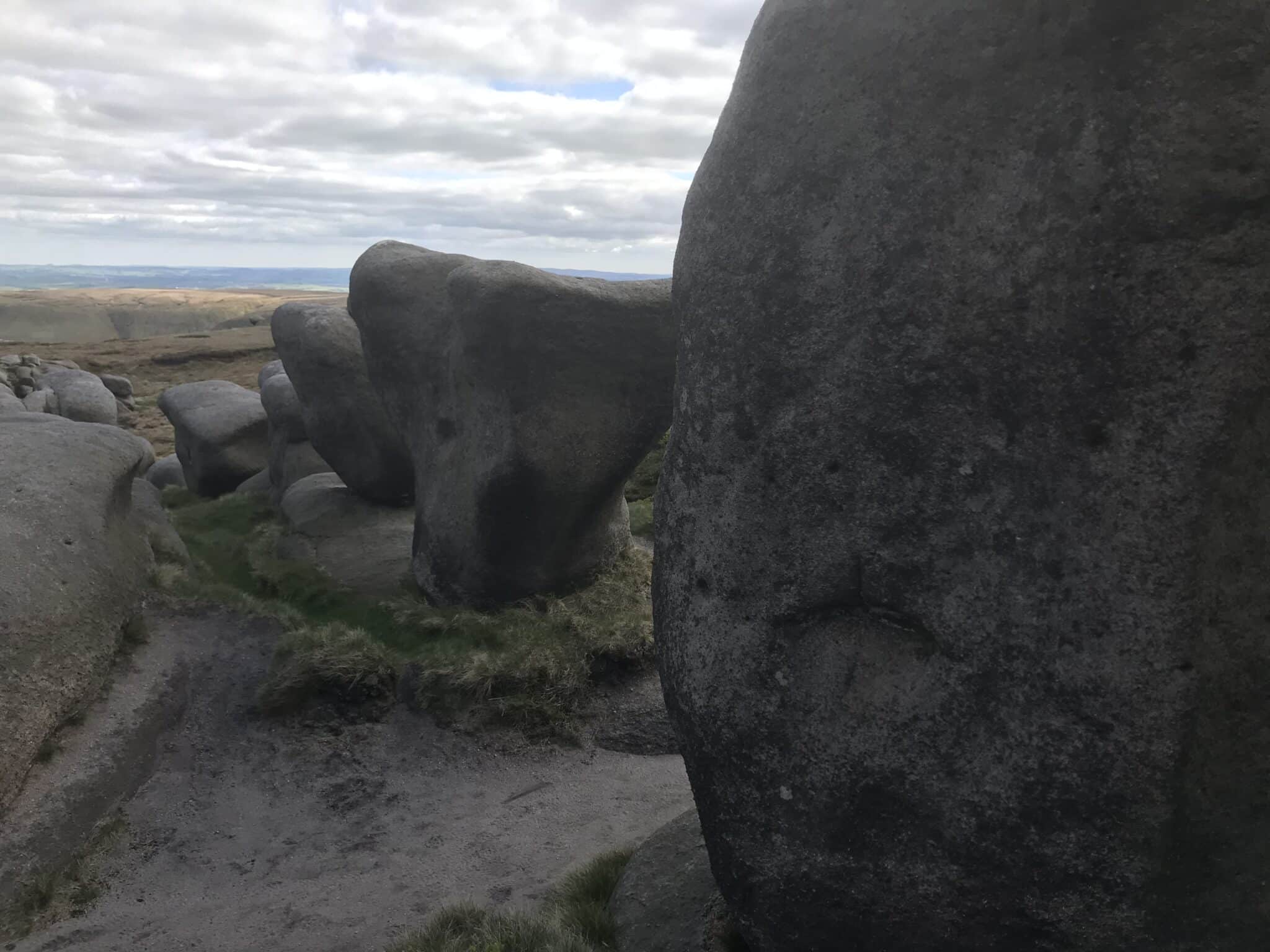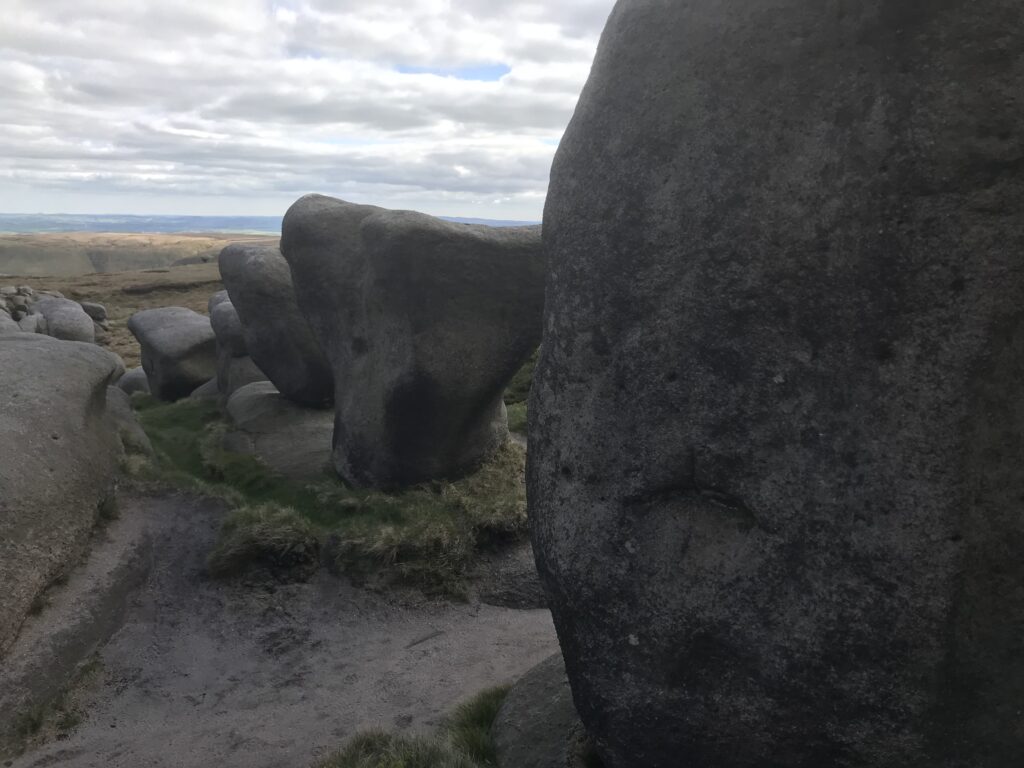 We headed towards the very furthest western point of the plateau which actually has no name but is marked by a rocky outcrop and also overlooks Mill Hill and then the path drops down to meet a cross roads from Hayfield up to The Pennine Way, but you don't drop down here !! it is now a sharp easterly right hand turn to traverse across the Northern Edges which for me was the highlight of the walk, especially the rock formation that looked like a giant turtle.
The Norther Edges are probably the least most visited part of Kinder Scout, and although it runs parallel to the A57 it feels more remote than anywhere else on the hill. We didn't see a soul on the northern side until Crookstone Knoll which is basically the full western to eastern traverse of the plateau and around 11km in total! but this wasn't before passing the spectacular Fairbrook Naze and Blackden Brook where I recalled my Mountain Leader Training and assessment sessions.
From here the scenery changes from desolate long flat high moorland of the North and West to the lush green valleys and sharper peaks of The Hope Valley on the south side of Kinder, almost like 2 separate mountain ranges. This is the most popular areas for walkers, fell runners and outdoor adventurers, not only because of its close proximity to Sheffield and The Midlands, but also because of the variety of its cloughs, edges and even some ridges!!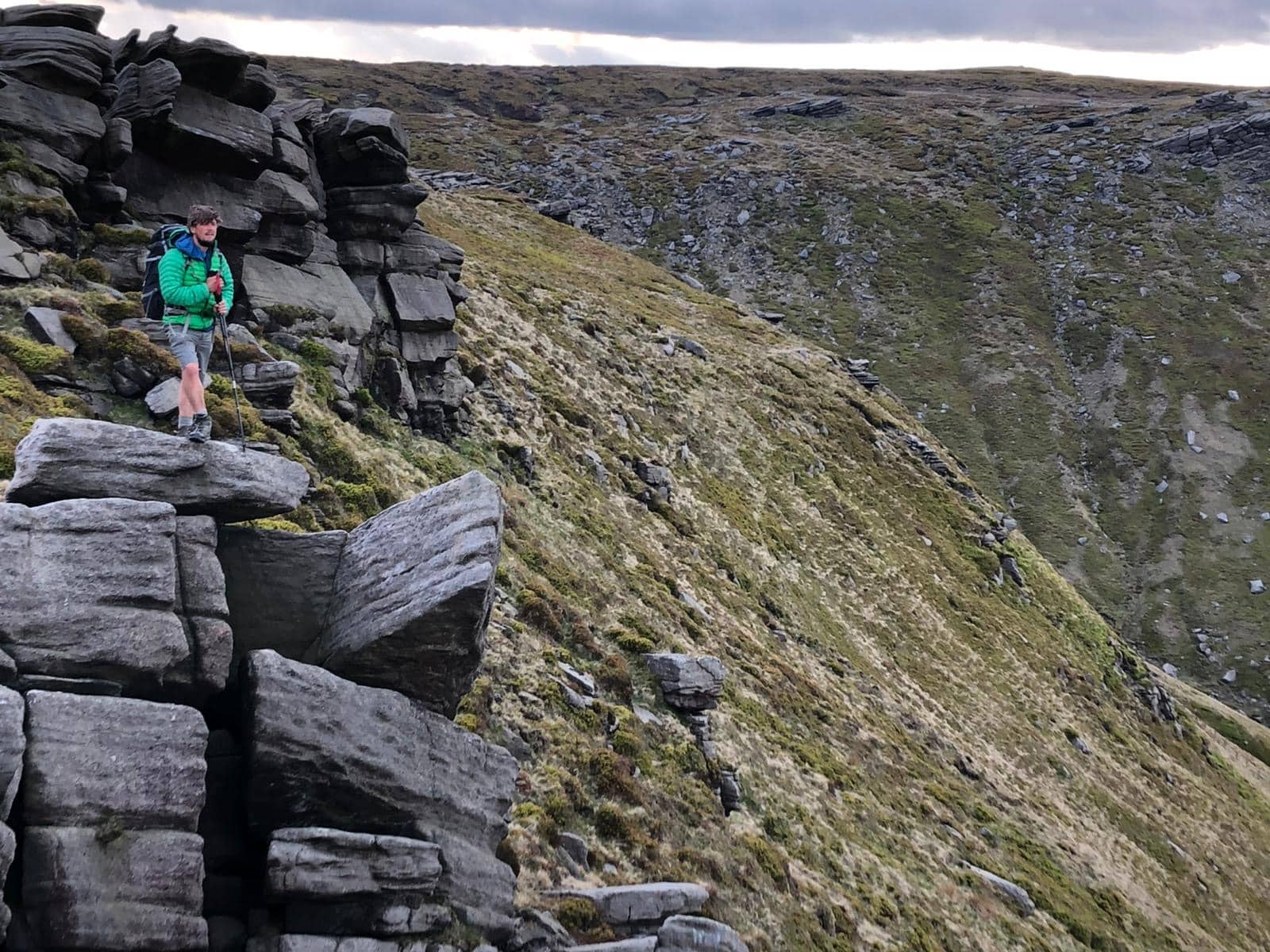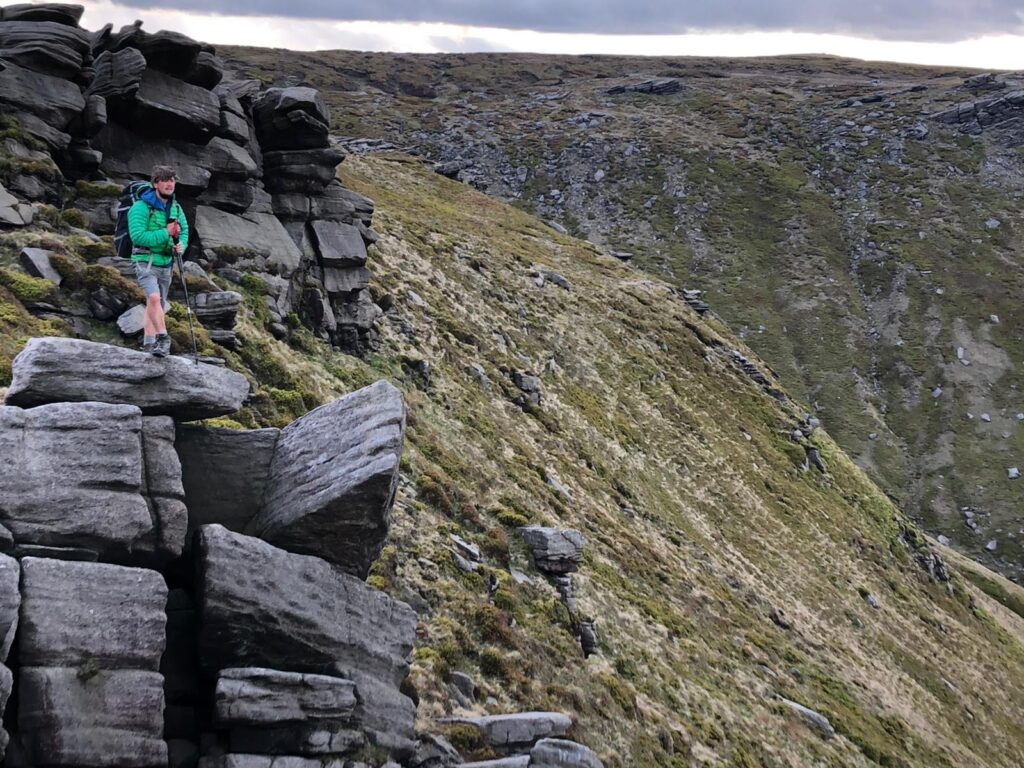 Now we were in for a treat with the rock formations of Ringing Roger, Nether Tor, Upper Tor and the scrambley cloughs of Grindsbrook and Crowden Clough, all with a constant linear back drop of The Great Ridge at the other side of the valley. Here you can escape down into Edale for a meal or pint in normal times but during these times nothing is open due to COVID 19 and I didn't want to visit these Peak District honeypots and overwhelm them so we continued on the high edge towards Crowden Clough our starting point passing yet more rock formations with a Giant Hogs head a higlight of many interesting Gritstone formations.
As expected, the southern edge had more people on it and everyone except a group of teenages were respecting social distancing rules. We descended Crowden Clough to complete the round which all in all is around 32 Km from Barber Booth car park which probably makes the Kinder Plateau round 26Km, but you have to get up there which is a minimum 2/3 km from where ever you start so expect a 30Km plus walk.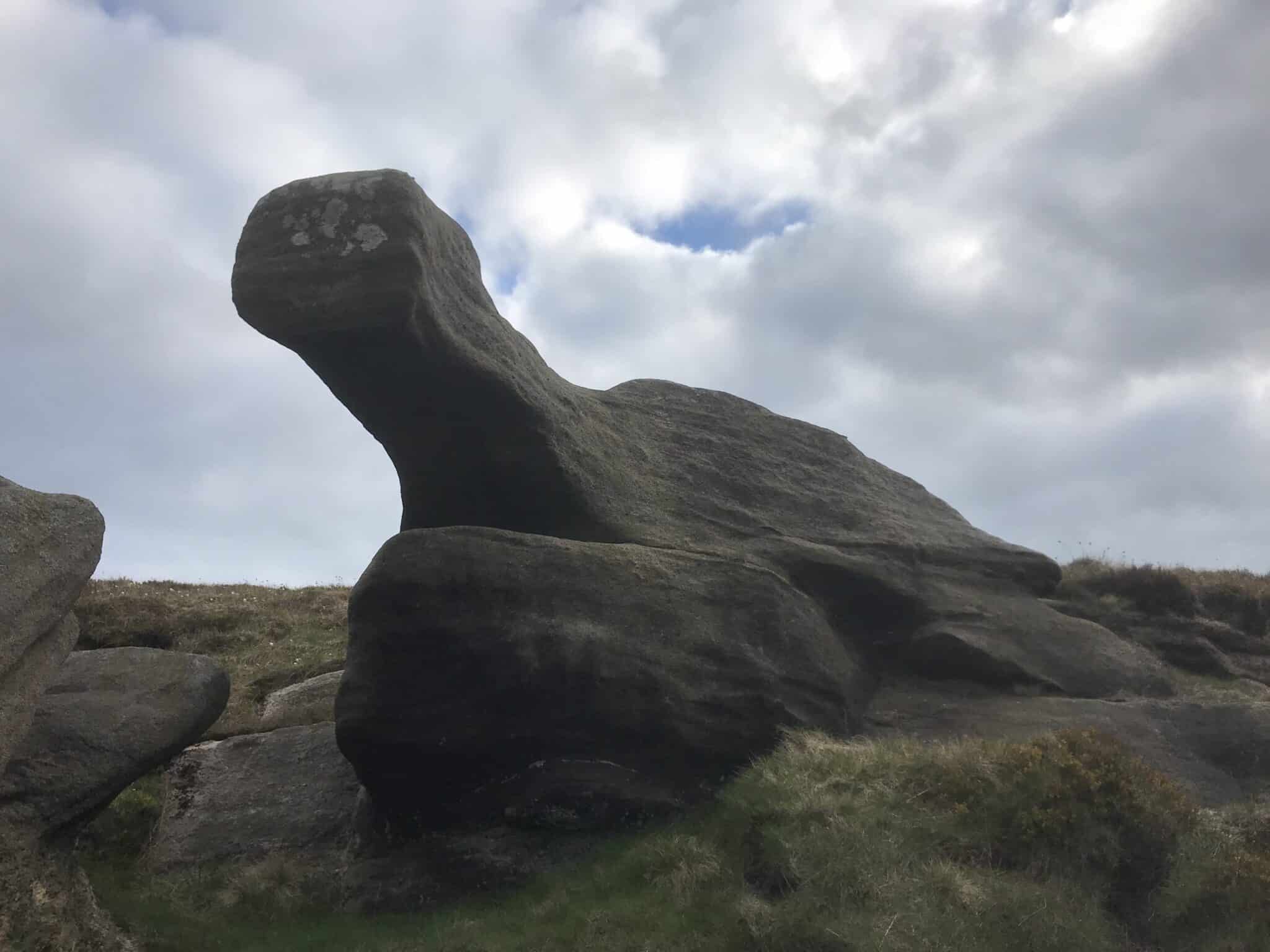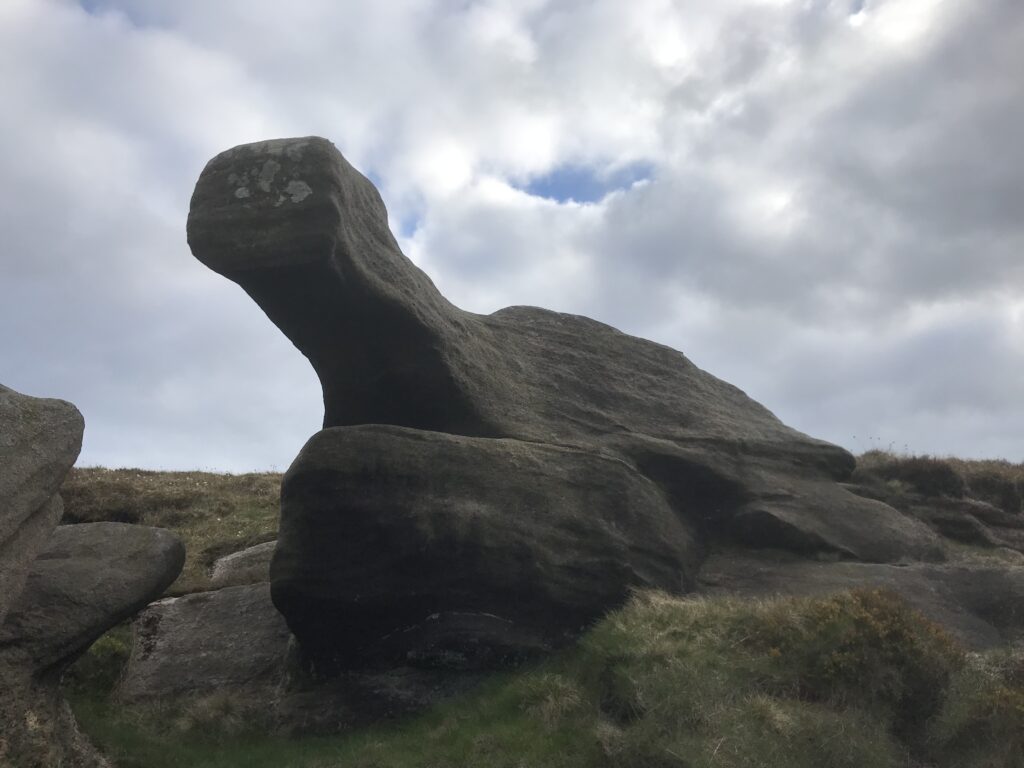 So that's that, 32 Km of the flattest lowest mountain you are ever probably going to traverse and although that sound bite doesn't quite sound exciting, the exploration and walk round this monolith of Gritstone & peat is definitely up there as one of the best walks in the Peak District.
The Kinder Plateau is for not for beginners and I would recommend only  walkers with a good level of fitness and excellent navigation skills attempt the Kinder Round, it may seem straight forward in good visibility but like any mountain range this can change very quickly and Navigation on Kinder Scout in bad conditions, poor light or mist and fog can be some of the most challenging in the country due to its featureless nature.
If you need any information on this walk feel free to Contact Us
If you would like myself and Peak-Outdoor to guide you on this challenge and take the burden off you, then Contact Us to book your place